Authentic marine and nautical designed lighting is popular for many reasons. Quality and classic nautical design are top reasons for choosing marine lighting for today's interior and exterior home use. Here's a few good reasons for selecting authentic over replicated lighting for your nautical room and coastal home.
Quality

Marine lighting was created to weather the harsh elements that are a constant threat to mariners and ships that sail upon the vast oceans of our world. These exceptional nautical fixtures have proven to withstand the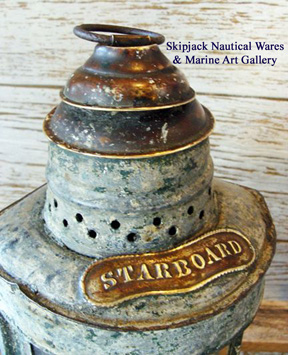 elements and have been tested through centuries. In order to survive harsh seafaring use, manufacturers of authentic marine lighting choose to use the best materials for construction. Though materials like wood and tin were commonly used throughout our maritime history, copper, brass and galvanized metal became the top choices for nautical lighting from the late 19th century and throughout the 20th century into modern times. Most authentic lamps and lighting that are available today are of the latter. Aluminum fixtures also became popular during the 1960's, sometimes replacing the more expensive brass and copper choices. From navigational lights to hanging lanterns, quality production and materials were essential to survival on the high seas!
Design

The best words to describe nautical lighting design is traditional and classic. Some refer to ship lights as industrial and even steampunk because of it's antique appearance. I like to envision the light used during the days of tall sailing ships, or maybe the sleek, highly polished marine lights that once adorned beautiful classic wooden yachts. Some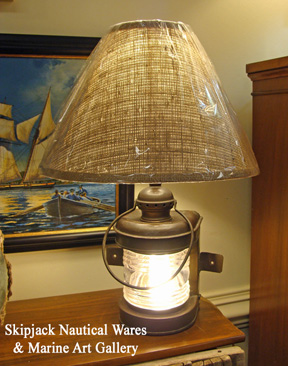 prefer the elegant lights that glistened up the skies at night on board the great ocean liners or the virtually indestructible fixtures that were used aboard naval and coast guard ships. Whatever is your taste and desire, these great old marine lights are in high demand today for home décor lighting and use.
Pricing

If you seek to own one of these seafaring artifacts of the past, then you should anticipate that they are going to come at a higher price than the replicated fixtures that flood the decorator market today. Yes, you can buy an inexpensive nautical style fixture from your local lamp and lighting stores, even the big hardware stores have marine style lighting that could suffice, but don't expect these fixtures to survive in a salted air environment like a beach home. They will rust out and become a fire hazard in short order. Also, aluminum fixtures are NOT a good choice for the salty air environment. These should only be used as an interior light fixture and are a good choice for areas like bathrooms where you may have brushed-steel fixtures.
Re-purpose Lighting For Today's Nautical Room & Coastal Home

The truth here is no matter what you do with a newly made light fixture, you cannot reproduce the look of an old seafaring marine light and lantern. This comes from years of exposure to harsh saltwater environment to create this natural oxidized patina. On the flip side, when we produce marine table lamps using new fixtures, we choose to use those made for actual boat and ship use because of quality factors not found in a cheap production examples.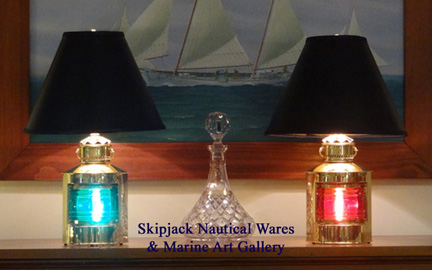 The primary lights that we seek for re-purposing are old navigational lights like port and starboard, bow and stern as well as mast lights. Other marine lights would include anchor and cabin lanterns. The images below demonstrate what can be achieved by using retired nautical lamp and lighting fixtures, re-purposed into beautiful table lamps and lighting for the nautical room and coastal home.
To preview the current selection of authentic nautical ship lights re-purposed into table lamps, click on the link here: NAUTICAL TABLE LAMPS