This wonderful old American-made seafaring marine anchor lantern survives with lots of nautical appeal and features an added copper shade above the lamp's Fresnel lens for additional protection from the elements. Thick glass Fresnel lens intensifies the distance of the light similar to a lighthouse lens and survives without cracks or chips.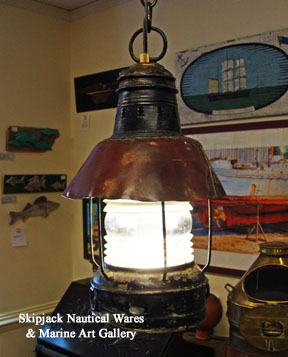 Once a kerosene burning lantern, we replaced the added existing interior light fixture with a new one and added three feet of bronze-colored chain and an 8 foot cord for hanging- perfect for the salty sea captains home as a foyer light, bathroom light or above your breakfast table or work station. Can also be used an an exterior porch light! Retains an old black-painted surface and the copper shade with a rich aged patina. Some dents around the lantern base and is open at the bottom with also allows a down-light.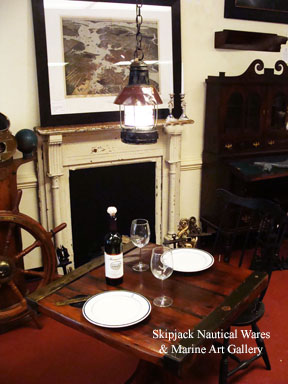 Measures 12 inches tall and 5 1/2 inches in diameter. A great old nautical fixture with lot's of maritime charm, re-purposed for today's nautical home use.