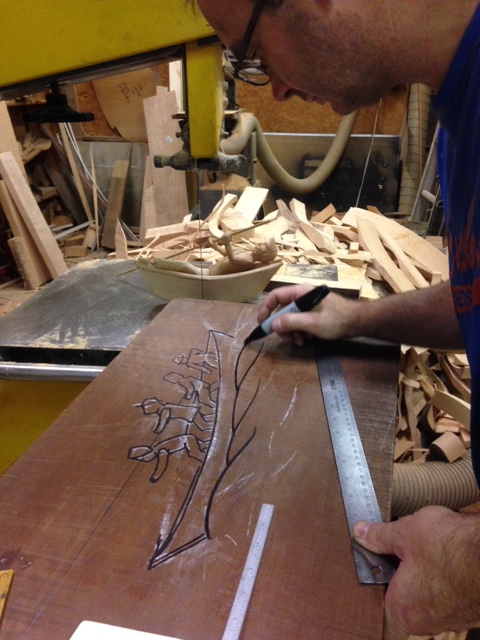 On their farm in southeastern Virginia, Jac Johnson and Patricia Paxson Johnson enjoy the creative challenges of combining their design, carving and painting talents to create whimsical folk art, historical reproductions and inspiring Americana pieces.
Jac and Patricia first began creating folk art pieces in the early 90's. Completely self-taught in carving, painting, drawing, and metal working, they began selling their pieces to selective buyers based strictly on word of mouth in the region. As their reputation as folk artists grew, they began exhibiting in juried folk art and trade shows, gaining the attention of galleries, national magazines and stores worldwide.
Their rural community provides inspiration from its wildlife and waterfowl plentiful in the area. The forest and fields around their 90 year old farmhouse provide not only inspiration, but acquired items of yesteryear that can be recycled into modern masterpieces of American folk art. Old tin barn roofs become wings for eagles and crows, or a roof and porch for a birdhouse. Vintage porch railing spindles become bases for carved white doves. Old pennies transform into eyes for folk art fish. This wonderful process of rebirth allows for self expression through their art.
PLEASE CLICK ON AN IMAGE BELOW FOR DETAILED DESCRIPTIONS.
IF YOU WOULD LIKE TO PURCHASE AN ITEM CLICK ON THE "ADD TO BASKET" BUTTON. WHEN YOU ARE DONE BROWSING, CLICK ON THE "CHECKOUT" BUTTON IN THE TOP RIGHT CORNER OF YOUR SCREEN TO COMPLETE YOUR ORDER.