Here are 10 proven winners for creating your very best nautical inspired room in your coastal home. Any or all of these design ideas will go a long way toward the realization of your space. Give these nautical design ideas a try:
1. Proper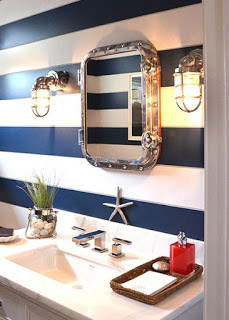 lighting plays a key role in any successful space. For a nautical inspired space choose table and floor lamps that are functional, not just decorative. Place them near the task at hand. One of the best ways to create that old seafaring look is to select ship navigational and space light fixtures re-purposed into functional lighting. Rewired nautical wall sconces positioned on either side of a bathroom mirror can be very effective. Old re-purposed ship lanterns make great table lamps, and ship pennant lights, cage lights and passageway lights are top choices to light both your interior and exterior spaces.
2. Repetition of your theme will enforce your ideas. If you are working with the idea of 'sailing' perhaps, select a piece of wall art featuring classic sailboats, a model of a sailboat on your mantel or table and navigational chart lampshades on your table lamps. Go a step further and include striped sailcloth on a piece of upholstered furniture. Of course not every element should be strictly about sailing but a good rule is to repeat an idea three times in any space.
3. Nautical colors, textures and finishes are typically borrowed from ships and yachts. Colors that associate well are described as sailcloth white, pitch black, port red and starboard green and navy blue. Wood selections include teak and mahogany, oak and maple. Brass, bronze, copper, aluminum, tin and galvanized metal, chrome and nickel finishes, both polished to a high shine or left verdigris for a weathered patina. Use hemp and nylon line for edging surfaces- including black and navy blue nylon for a distinct yachting presence. Try navigational charts for a wall covering, especially in small areas like a bathroom or dressing room.
4. Dress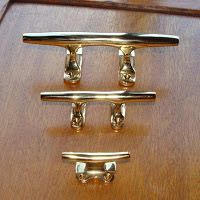 up your kitchen and bathroom cabinets and furniture by selecting brass or nickel-plated cleats as handles and pulls. It's the perfect look for both hardwood and painted cabinet finishes. Hand-tied monkey's fist or turk's head knobs are perfect choices too!
5. Antique sea chests and select antique furniture fit well into the traditional New England style nautical environment. You may also want to consider custom made furniture using retired teak ship's grates or hatch covers as tops for tables. These are both beautiful, functional and add a lot of character to the room. We've also used old ship's doors, brass portholes and windows as tops for occasional and coffee tables too.
6. Nautical/marine art for your walls can be more than just a print or a painting, though the perfect marine painting can be the focal point in your room. Framed black and white photographs of classic yachts and giclee prints after original paintings are usually more affordable ways to add in quality marine art.
7. For other wall art forms, consider a beautiful
ships wheel
,
ship's name, quarter and stern boards
, old oars, a collection of
half hulls of old sailing ships
,
folk and sailor marine carvings of whales and mermaids
and even harpoons, representing the days of whaling and seafaring days gone by. Victorian age sailor's valentines were brought back from the island of Barbados as gifts for loved ones. Contemporary examples with great detail can be a great choice as well. Also, consider adding in the sound of the ringing of a
ship's bell clock.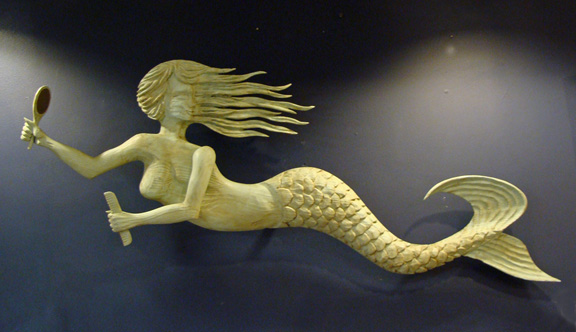 8. Be selective when accessorizing your nautical room. We recommend using sextants or octants, spyglasses, on a bookshelf, boxed compasses, small scale models, wood blocks and smaller sailor-made carvings on table, desk and chest tops. Small collections work best grouped together in a tight assemblage. You will make a stronger statement when they appear "en masse" as each one accents the other. Think of a collection of ship-in-bottles, antique scrimshaw, or a grouping of items like vintage blocks from sailboats, compasses and other small maritime items placed together on a bookshelf or tabletop. Larger ship's instruments like binnacles, telegraphs and ship wheels on stands are well suited to stand alone placed in a corner or as a centerpiece.
9. Always select quality over quantity. A few authentic vintage or antique nautical items are better than a room-full of reproductions and nautical nick-knacks. A little can go a long way.
10. Don't be afraid to take a photo of your space and ask for advice. A qualified dealer can assist you with finding the right items to create the perfect nautical environment for your home or office.
Written by Joe Elder of Skipjack Nautical Wares & Rebecca T Larys Interior Design, IIDA located in Olde Towne Portsmouth, Virginia.
As first printed in Coastal Virginia magazine, April 2016.